Inside the Road to WasabiCon Revival Tournament
Jacksonville's largest pop culture con is only 3 months, 1 day, and 7 hours away from the time of me writing this post and gamers across the city, and some across the state, are getting their sticks and combos ready at the Revival Gaming Tournament in The Downtown Landing.
The Good Luck Have Fun Gaming Bar,
or GLHF Bar for short, opened behind Chicago Pizza in 2016 as a community hub for food, drinks, and gaming. Since then the establishment has done major advertising for GAAM, an event for another post, and Wasabi via their Revival Tournaments. Call of Duty, Overwatch, Street Fighter, Tekken, and Super Smash Bros are some of the previous titles seen on the sign up list. However, this year Supervisor "Big R" and his staff were excited to include BlazeBlue Cross Tag Battle and Dragon Ball Fighter Z to the line up.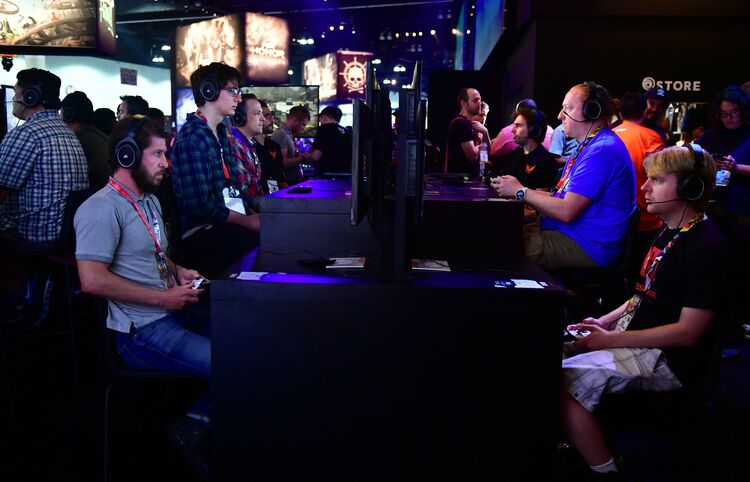 So this past Saturday I got to sit in on a Revival Tournament and to talk to Big R and some of the other competitors. Big R informed me that BlazeBlue, which was live streaming on Twitch, was their newest addition as the game had just release on PS4 and a couple of other platforms this past June. I absolutely fan girled over the addition of Ruby Rose from RWBY, message me sometime and we can freak out over predictions for volume 6. Tekken was a classic and you really seasoned gamers can even play all old school on a Namco arcade. The main event, however, was Dragon Ball Fighter Z. The Marvel VS Capccom styled DBZ fighter has been nothing less of epic since its release back in January. Featuring characters from Dragon Ball, Z, and Super the game has become a must-have in tournaments.
"GLFH is a great way to bring people together"
Says one blerd who entered the Fighter Z tournament. We talked about how all the former kid fans of video games now get to enjoy themselves in adulthood alongside noobs who are learning how to get comfortable with the competitive atmosphere. "It's really cool how [GLFH Bar] wants to be more inclusive to help bring gaming to more mainstream audiences."
Fellow blerd NeverKnowsBest100 (on Twitch) admited that he used to feel ashamed of being a black nerd but as he got older he learned how to be himself and that he would naturally come across people who enjoy the same things. What I really took away from my conversation with him is that "being black is more than one thing now." I loved this because for various reasons such as stereotypes, profiling, or peer pressure many persons of color have struggled with being a part of their cuture and still enjoying the numerous fruits of the nerdy subculture. However, GLFH Bar has created a place where this can be done.
Be sure to come out and say hi to me at the next Revival Tournament on August 14th.

The Noob Network
What up my fellow Blerds and Noob! I'm here to represent video games, comics, manga/anime, hip hop, and all things nerdy in Jacksonville, FL and the surrounding area. Gamertag: noobianqueen95
Read more