So if you're friends are nerds like mine then at least 50% of your conversation has been about the Electronic Entertainment Expo, a.k.a. E3, since like last Sunday. Sony vs Mircrosoft (vs Nintendo ) has been a match for the ages. Talk about which games, consoles, and projects, can be expected from the various competing franchises within the industry has had every gamer's attention all week long. And now, I activate my trap card, my list of top announcements at E3. Critics have alreasy started their complaints about too many game trailors and not enough projects, new console features not being worth new console prices, and an entire disappoint over the delays for some expectations that have been years in the making. Thererfore, my list shall do one of two things, either remind you of some of the great announcements that have come out of E3 this year or give you more to rant about. Let me know what you are feeling below and maybe I'll feature your input in my next post.
10. Destiney 2: Foresaken
Destiny is not shy when it comes to wrecking it's players hopes and dreams for a victorious future but a prision breakout at the universe's most notorious armed prision? Talk about devastating. Creator Bungie announced the expansion earlier this year and on Tuesday a trailer was releaased for the RPG. The explosive popularity of Destiny after its inital 2014 release has since been reduced to a spark. This is due to player complaints about expansions and downloads that weren't worth the cost, so there is a lot of skepticism surrounding this announcement within the gaming community. However, what we haven't seen before is Gambit mode. "Destiny begs to marry PVE (player vs environment) and PVP (player vs player) together" says Eric Osborne, Bungie's Head of Community. This, along with the new range of weapons and gameplay is why Destiny 2: Forsaken simply HAD to kick off the list.
9. Last of Us 2
According to GameRevolution, this post-apocalyptic RPG is the most anticipated PS4 exclusive of the year Although the release date is still concealed by the producer Naughty Dog, an interesting gameplay was unveiled at Sony's show at the Expo which included a major development in one of the games protagonists.
8. Spider-Man
I'm a regular reader of the Game Informer and if any of you are too then you already know that there is massive anticipation and mixed feelings about Insomniac Games' spin on Marvel's Spider-Man. The web slinging fictional hero of Midtown, New York already has quite the roster of successful games. I remember watching my big brother play the trilogy inspired games on the first Xbox, then there's the Ultimate and Amazing series. Spider-Man has done well for himself, but some critics wonder if there is really a need for another Spider-Man game. Much like the movie franchise, the video game franchise is quite saturated; you could easily say that Spider-Man is the Batman of the Marvel Universe. But I'd like to argue that unlike Batman, Spider-Man actually lives up to his hype. Few know this, but Spider-man has the most enemies in Marvel Universe. What the movies and games both have provided is a variety of bad guys to explore and that is exactly what Sony claims we will get in this revamp. Echoes of The Sinister Six was present in Sony Picture's The Amazing Spider-Man 2 before Marvel recollected their icon and now Sony is finally able to implement that dream. On Monday it was announced that the villainous Sinister Six would be the antagonists of the game and fans are raging with excitement to see this group of goons.
7. Assassin's Creed Odyssey
E3 just isn't E3 without Assassin's Creed. The Ubisoft franchise blew our minds last year with the trailer for the 2017 fall release of Origins and was it not AMAZING?! This year we get to embark on the adventures of ancient Greece just as the Athens and Spartans incline to war over dominance of the peninsula. Ubisoft's Quebec branch have put their hearts into the three years of making the RPG and all their hard work can be seen in the official walkthrough. With graphics that have captured the eye the wayBlack Flag did and a telltale decision making feature this Assassin's Creed will make you feel as though Abstergo themselves have you locked into their simulator.
6. Fallout 76
Okay, if you didn't see this one making my list please just take a minute to check out the trailer before going any further.
(Warning: The Fallout franchise can be extremely disturbing and is not suited for children.)
A glimpse into the past of the enclave children right before all out nuclear war.
5. Kingdom Hearts 3
13 years in the making, Square Enix is finally ready to release the third independent to the ever-evolving Kingdom Hearts story. Sora is back with Donald and Goofy to extinguish the darkness in the universe and unlock some hearts in the worlds of Frozen, Toy Story, Monster's Inc, and more. But is that really what all the talk is about? I doubt that. It appears, since 2005, a major part of the Kingdom Hearts fandom has been Square Enix's failure to stick to a release date. If you are trying to get comfortable with disappointment in your life, become a Kingdom Heart's fan. So then why is KH3 on my top 10 announcements of E3? Maybe it's because Utada Hikaru is back for another astonishing theme song, maybe it's cause anti-hero and protagonist Riku got a haircut that no fan girl was ready for, or maybe it's just due to the fact that the release date was moved back once more on the eve of E3 from it's 2018 announcement to January 29th of 2019. Honestly, I have no real reason, it just feels right to mention Square Enix. Enjoy Utada Hikaru's new soundtrack here.
4. Microsoft's New Console
The gaming community almost lost all their illegal bets this April when Game Informer included an article that reported Microsoft's newest console, the Xbox One F. According to the magazine, the console would be sold at $899 and have an 8% increase in processing power which was enough to push it to 5K visuals, a feature that no television is currently capable of. Fans gave a collective breath of relief when it was revealed to be a part of Game Infarcer, an annual April Fool's joke put on by the magazine.
However, at E3 this year it was revealed that Microsoft is working on a new console and we can expect a major feature to compete with the industry standards. One said feature is Microsoft AI which will improve on game streaming and provide console quality mobile gaming. Be sure to check back to this blog at both 93.3 the beat jamz and 97.9 kiss fm to keep up-to-date with more announcements and releases from Microsoft.
3. Fortnite Coming to Nintendo Switch
The year of 2018 has been the year of Fortnite. The co-op sandbox game has taken over the industry and is the most popular game since Overwatch. Fans experienced a different kind of madness when it was announced back in March that a version of the game would be available on mobile devices, although we Samsung users are still patiently waiting in the Google Play Store for the cross-capability. And while PC, PS4, and Xbox One players raced to get the infinity gauntlet (yes, you can get Thanos' infinity gauntlet in the game now), the poor Nintendo Switch was forgotten. Until Monday June 11th, that was by birthday btw, when Nintendo announced the acclaimed Fortnite would soon be available on their innovative platform as well. So, get ready, you nostalgic loyalist to gaming, your about to regularly defend yourself in the Hunger Games of gaming.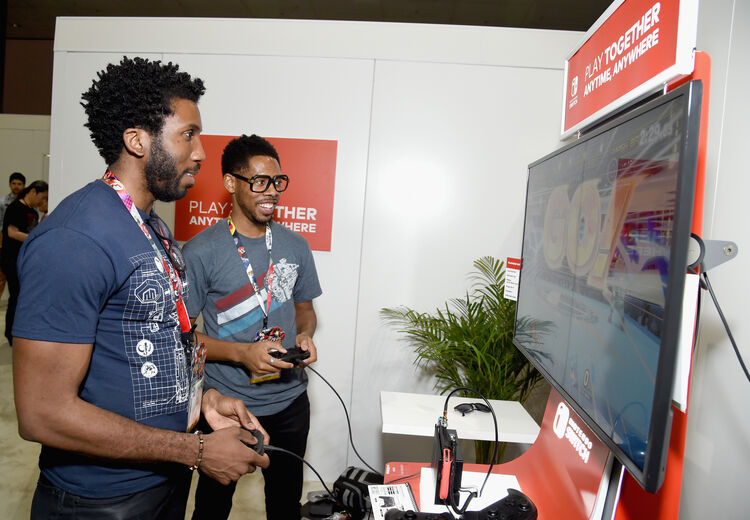 2. Halo Infinite
Okay, if I'm being honest Halo is second on this list because it is one of my personal favorites from all the E3 announcements but it's my list so deal with it.
What can I say? Halo has continued its legacy in graphics 343 is ready to expand the story of Master Chief John. The 2:19 long trailer traditionally leave a lot for the view contemplate over. There is a crash of Marines with the signal of distress sent that Master Chief views at the end of the trailer. My theory is that this scene is connect to the crash landing of the UNSC Infinity on the Forerunner constructed world Requiem where Forward to Dawn was captured with Master Chief on it in Halo 4. However, more knowledgeable fans than I have decoded the Morse code in the walky-talky and the covenant marking that suggest they are on Zeta Halo Installation 07 in entirely different sector of the galaxy.
Guess I'm just a noob. ̅\_('—')_/ ̅
Regardless, predicting the story is a major part of the fun when a new trailer is released so thank you slipspace.
Honorable Mentions:
You might also want to check out Gears 5, Wolfenstein Youngblood, Detroit: Becoming Human, Elder Scrolls 6, Updates for PS Plus, Final Fantasy and Monster Hunter Crossover, and of course Super Smash Bros Ultimate.
DRUM ROLL PLEASE…
1. Anthem a.k.a The Destiny Killer
I mean, I could very well leave it at this.
But forreal tho, Anthem is going to be the biggest sandbox FPS yet…I hope. Don't quote me if it flops. Bbioware originally announced the game as an xbox exclusive at E3 2017 and was expected to drop on June 11th this year…it would've been a great birthday, but I guess 2019 it is and oon PS4 as well.

The Noob Network
What up my fellow Blerds and Noob! I'm here to represent video games, comics, manga/anime, hip hop, and all things nerdy in Jacksonville, FL and the surrounding area. Gamertag: noobianqueen95
Read more