Here's The Techy Way Ariana Grande Chose Her Engagement Ring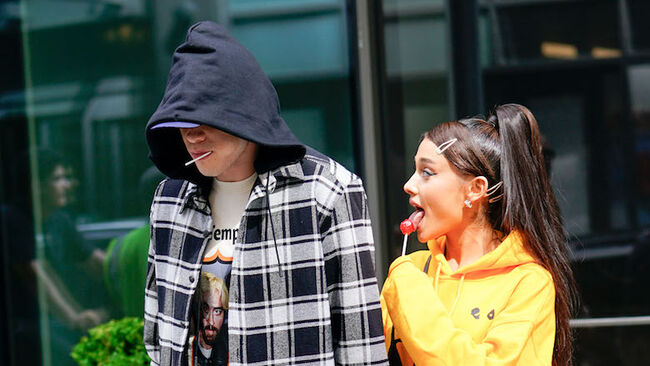 As it turns out, Pete Davidson and Ariana Grande's flash engagement may have happened quicker than we thought — we're talking lightspeed.
The Saturday Night Live comedian's recent interview with GQ was filled with surprising revelations. Like, for instance, how he proposed to Grande the very day they met and the extraordinarily millennial the "God Is a Woman" musician used technology to select her engagement ring.
"The day I met her, I was like, 'Hey, I'll marry you tomorrow,'" Davidson tells the publication for its upcoming September issue, before sending his then-girlfriend an abundance of sparklers to choose from via text message. "She was calling my bluff. I sent her a picture [of engagement rings]. I was like, 'Do you like any of these?' She was like, 'Those are my favorite ones,' and I was like, 'Sick.'"
Grande settled on a 3-carat pear diamond ring valued at nearly $100K — $93,000 to be precise.
"Pete called me at the end of May and said 'Look, I'm getting a ring. This is what I want,'" the man behind the rock, jeweler Greg Yuna, told E! "And I told him that I had the right ring for him. He didn't tell me who it was for but told me to keep it a secret. He didn't tell me anything about it."
After making their relationship Instagram official and announcing their engagement in mid-June, the pop star finally debuted her bling a few weeks later.
Check it out, below, if you haven't already: