Rihanna Gets Painful CHISEL Tattoo! [VIDEO]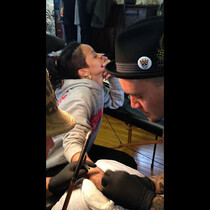 Posted October 10th, 2013 @ 6:14am
Rihanna was in New Zealand on her Diamonds world tour and decided to get a tattoo. The catch: It was etched into her skin!

The new tattoo has some lines and symbols that go from her fingers up to the middle of her arm.

The traditional Maori tattoo uses a chisel, ink pigment and a mallet. Check out the video…she seems to handle it pretty well!